Quality Information Technology and Communications Consultants Limited (QITC) Solutions
QITC uses the best solutions to cost effectively meet its clients requirements. From writing user, admin, and process documentation in printed, web or On Line Help formats, to the development of Information management solutions. Be it Dewey Decimal Classification , indexed web content, Archiving, InfoMan, or Sharepoint solutions.
BUSINESS ANALYSIS
Analysing your Business, systems, and strategy requirements. Including core business procedures and processes. Providing Gap Analysis, Business Process Re-engineering, Change and Project Management services, along with internal company ISO9000:2000/3/8 auditing.
TECHNICAL AUTHORING
Working on the documentation of new or existing hardware, software or process requirements. Producing documentation in printed, web, or On Line Help to industry standard formats or to specified style guides.
INFORMATION MANAGEMENT
Historically Information management was achieved using printed library systems, such as Dewi Decimal, or SGML files on mainframes. The move in the mid to late 1980's away from mainframes to the distributed servers required a more flexible solution to SGML. This took the form of HTML, a sub set of SGML, and eventfully the DHTML and XML solutions that we find today .
What are your requirements? if it is to manage a set of user guides and/or business documents only, all you probably need is a simple HTML document tree, as shown in the TQM example below. For more complex requirements, such as the ability to generate reports from databases, and documentation issue control, you may require something along the lines of InfoMan or Microsoft Office Sharepoint.
From simple browsers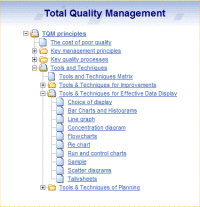 T0 Microsoft Sharepoint Server Solutions